Author bio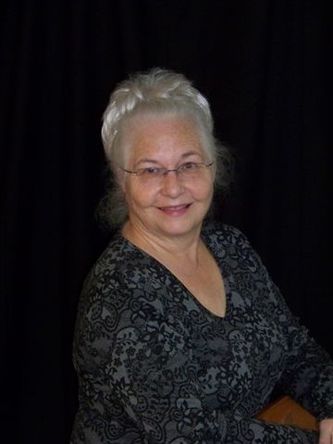 Carolyn Brown - book author
Hi! I'm twenty five years old and movie star gorgeous. The camera added thirty plus years and a few wrinkles. Can't trust those cameras or mirrors either. Along with bathroom scales they are notorious liars! Honestly, I am the mother of three fantastic grown children who've made me laugh and given me more story ideas than I could ever write. My husband, Charles, is my strongest supporter and my best friend. He's even willing to eat fast food and help with the laundry while I finish one more chapter! Life is good and I am blessed!

Reading has been a passion since I was five years old and figured out those were words on book pages. As soon as my chubby little fingers found they could put words on a Big Chief tablet with a fat pencil, I was on my way. Writing joined reading in my list of passions. I will read anything from the back of the Cheerio's box to Faulkner and love every bit of it. In addition to reading I enjoy cooking, my family and the ocean. I love the Florida beaches. Listening to the ocean waves puts my writing brain into high gear.

I love writing romance because it's about emotions and relationships. Human nature hasn't changed a bit since Eve coveted the fruit in the Garden of Eden. Settings change. Plots change. Names change. Times change. But love is love and men and women have been falling in and out of it forever. Romance is about emotions: love, hate, anger, laughter... all of it. If I can make you laugh until your sides ache or grab a tissue then I've touched your emotions and accomplished what every writer sets out to do.

I got serious about writing when my third child was born and had her days and nights mixed up. I had to stay up all night anyway and it was very quiet so I invested in a spiral back notebook and sharpened a few pencils. The story that emerged has never sold but it's brought in enough rejection slips to put the Redwood Forest on the endangered list. In 1997 Kensington bought two books for their Precious Gems line. Two years and six books later the line died with only four of those books seeing publication. But by then Avalon had bought a book and another, and another. Ten years later the list has grown to thirty nine. Last year Sourcebooks bought the Lucky Series which is in the bookstores now. They've also bought The Honky Tonk Series which will debut with I LOVE THIS BAR in June and will be followed by HELL, YEAH, MY GIVE A DAMN'S BUSTED, and HONKY TONK CHRISTMAS.

Folks ask me where I get my ideas. Three kids, fifteen grandchildren, two great grandchildren. Note: I was a very young grandmother! Life is a zoo around here when they all come home. In one Sunday afternoon there's enough ideas to keep me writing for years and years. Seriously, ideas pop up at the craziest times. When one sinks its roots into my mind, I have no choice but to write the story. And while I'm writing the characters peek over my shoulder and make sure I'm telling it right and not exaggerating too much. Pesky little devils, they are!

I have a wonderful agent, Erin Niumata, who continues to work magic and sell my work. I'm very lucky to have her and my editors who continue to believe in me.

Happy reading!
Carolyn Brown is the author of books: The Ladies' Room, The Sometimes Sisters, Small Town Rumors, The Barefoot Summer, The Magnolia Inn, The Strawberry Hearts Diner, The Lilac Bouquet, The Lullaby Sky, The Perfect Dress, The Yellow Rose Beauty Shop (The Cadillac Series #3)
Author Books
01


Trudy has a daughter in the middle of a major rebellion; a two-timing husband who has been cheating for their entire married life; and a mother with Alzheimer's residing in the local nursing home. She doesn't really need a crumbling old house about to fall into nothing but a pile of memories and broken knickknacks.

Billy Lee Tucker, resident oddball in Tishomingo, Oklahoma, lived next door to Gert, and in her will she leaves him the funds to help Trudy remodel the old house. That's fine with Billy Lee, because he's been in love with Trudy since before they started school. And just spending time with her is something he'd never ever allowed himself to dream about.

A beautiful home rises up from the old house on Broadway, and right along with it rises up a relationship. But is Trudy too scarred from what she heard in the ladies' room to see a lovely future with Billy Lee?
02
A bittersweet inheritance reunites three estranged sisters in a novel of family, trust, and forgiveness from New York Times bestselling author Carolyn Brown.

When they were growing up, Dana, Harper, and Tawny thought of themselves as "sometimes sisters." They connected only during the summer month they'd all spend at their grandmother's rustic lakeside resort in north Texas. But secrets started building, and ten years have passed since they've all been together—in fact, they've rarely spoken, and it broke their grandmother's heart.

Now she's gone, leaving Annie's Place to her granddaughters—twelve cabins, a small house, a café, a convenience store, and a lot of family memories. It's where Dana, Harper, and Tawny once shared so many good times. They've returned, sharing only hidden regrets, a guarded mistrust, and haunting guilt. But now, in this healing summer place, the secrets that once drove them apart could bring them back together—especially when they discover that their grandmother may have been hiding something, too…

To overcome the past and find future happiness, these "sometimes sisters" have one more chance to realize they are always family.
03
From New York Times bestselling author Carolyn Brown comes a funny heartache of a novel about overcoming the past, confronting the future, and defying all expectations.

Everyone is talking about Jennie Sue Baker and the mess she made of her life in New York. The former high school queen bee—and wealthy darling of Bloom, Texas—has returned home after all these years, riding on a common bus and bearing two bounced alimony checks. In a town that thrives on gossip, Jennie's fall from grace has shamed her mother, set the town buzzing, and caused old, jealous enemies to whisper in delight. They say she's taken a job as a housekeeper, gotten a garage apartment, and might be crushing on Rick Lawson, a simple farmer with modest dreams.

As romance starts to bud, Jennie relishes what it means to follow her heart, find real new friends, and finally be herself—regardless of all the lying town chatter. But fate has another twist in store. Rumor has it that Jennie now stands to lose what matters most…unless she can convince Rick of one true thing—and that's love.
04
New York Times bestselling author Carolyn Brown returns with a heartbreakingly hilarious novel about three women who had nothing in common, except their husband.

Leaving one widow behind is unfortunate. Leaving three widows behind is just plain despicable. Oil heiress Kate Steele knew her not-so-dearly departed husband was a con man, but she's shocked that Conrad racked up two more wives without divorcing her first. The only remnant of their miserable marriage she plans to keep is their lakeside cabin in Bootleg, Texas. Unfortunately, she's not the only woman with that idea.

Fiery, strong-willed Jamie wishes Conrad were still alive—so she could kill the scoundrel herself. But for their daughter's sake, she needs that property. As does Amanda—twenty-eight, pregnant, and still weeping over the loss of her true love. On a broiling July day, all three arrive in Bootleg…with a dogged detective right behind who's convinced that at least one of them conspired to commit murder. One momentous summer filled with revelations, quirky neighbors, and barefoot evenings on the porch offers three women the chance to make the journey from enemies to friends, and claim a bright, new beginning.
05
New York Times bestselling author Carolyn Brown brings together two wounded hearts in a Texas romance of second chances and twice-in-a-lifetime true love.

Inheriting the Magnolia Inn, a Victorian home nestled in the East Texas pines, is a fantasy come true for Jolene Broussard. After living with the guilt of failing to rescue her self-destructive mother, Jolene knows her aunt and uncle's B&B is the perfect jump start for a new life and a comforting place to call home. There's just one hitch: stubborn and moody carpenter Tucker Malone. He's got a half interest in the Magnolia Inn, and he's planting his dusty cowboy boots squarely in the middle of her dream.

Ever since his wife's death, Tucker's own guilt and demons have left him as guarded as Jolene. The last thing he expects is for his new partner to stir something inside him he thought was gone forever. And as wary as Jolene is, she may have found a kindred spirit—someone she can help, and someone she can hold on to.

Restoring the Magnolia Inn is the first step toward restoring their hearts. Will they be able to let go of the past and trust each other to do it together?
07
will have a wedding. After three generations of Massey women with children out of wedlock, she wants the whole town of Hickory, Texas, to witness the legitimacy of her union with Logan Grady. But dream weddings aren't cheap. So she accepts a highly lucrative stint as a home health assistant to retired realtor, and town recluse, Seth Thomas—a decision her great-grandmother Tandy is dead-set against.

Seth isn't happy about it, either. The eighty-two-year-old doesn't want a "babysitter"—much less a Massey—something he makes clear when Emmy arrives at his house, an empty mansion built for the woman who broke his heart. But as Emmy stays and the two eventually open up to each other, she learns the reason behind a feud between Seth, Tandy, and Logan's grandfather Jesse Grady that goes back six decades. She also uncovers a secret that forever changes how she sees her past and her future…
08
After seven years of misery and abuse, it's all over—Hannah O'Malley is officially divorced. Hallelujah. It's like every Christmas in her life all rolled up into one glorious day. Not only does Hannah get to keep her grandmother's spacious old house, but she has full custody of her sparky five-year-old daughter. All Hannah has to do now is put the past behind her.
And now that she's free, she wants to make a difference. With the help of her warm, close-knit circle of friends—including her high school crush, Travis Wilson—Hannah begins turning her home into a safe house for other women who've endured the pain she's known. But even as life and laughter return to Hannah's home, she's haunted by the memory of her dangerously unstable ex. With a second chance at love on the horizon, Hannah must face down her past in order to let the sunshine back into her life.
09
A plus-size Texas gal has designs on an old crush in New York Times bestselling author Carolyn Brown's exuberant, bighearted romance.

In the small town of Celeste, Texas, Mitzi Taylor has never quite fit inside the lines. Nearly six feet tall, flame-haired, and with a plus-size spirit to match every curve, she's found her niche: a custom wedding-dress boutique catering to big brides-to-be with big dreams. Taking the plunge alongside her two best friends, she's proud they've turned The Perfect Dress into a perfect success.

Just when Mitzi has it all pulled together, Graham Harrison walks back into her life, looking for bridesmaid dresses for his twin daughters. A still-strapping jock whose every gorgeous, towering inch smells like aftershave, the star of all Mitzi's high school dreams is causing quite a flush.

For Mitzi, all it takes is a touch to feel sparks flitting around her like fireflies. She can just imagine what a kiss could do. Graham's feeling it, too. And he's about to make that imagination of Mitzi's run wild. Is it just a hot summer fling, or are Mitzi's next designs for herself and seeing her own dreams come true?
10


Heather, the bossy leader of the church's Prayer Angels, thinks a summer ball will get Stella and the town's other single gals paired off. But nobody can tell redheaded spitfire Stella what to do—not her mama, not Heather, and not even the sexy beau Stella's been seeing in secret. Together, Stella, her best friends Charlotte and Piper, and the loyal customers of the Yellow Rose Beauty Shop hatch a good old-fashioned scheme to sabotage the ball. But will it wreck Stella's relationship with her mama forever? And what will the church folk think when Stella reveals the identity of her mystery man?